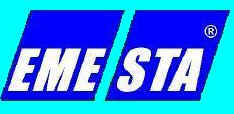 EMESTA ® GmbH
Arndtstrasse 3 51645 Gummersbach Telefon 02262-692400 Telefax 02262-6924030
EK 5-3 Container Garage System Enviromental Protection at your Container Garage System
The EK model 5-3 serves to hold containers for all kinds of solids sticked with water-polluting substances. It has a double-walled collecting trough consisting of one collecting and one safety trough. The manual opening of the roof guarantees a problem-free loading along with an effective utilisation of the container. The surface can be concrete, asphalt or pavement.
Pit cover Sectional roof
Roof for the pit:
Roof easily movable manually
Side walls and roof zinc coated
Rails and frame: RAL 7035, light grey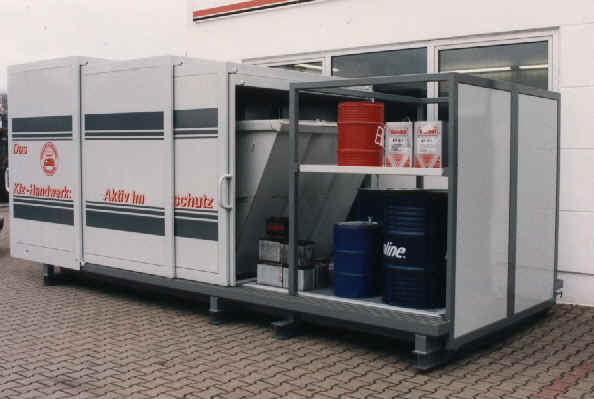 Our mobile device combines a container garage with a pollutant station for your automotive company. The pollutant station can be put up outside. It serves to hold all containers including water pollutants which are accumulating in a workshop, and, additionally, it can hold a scrap metal container up to 10 m³. Besides, the device offers you storing space for 20 - 30 batteries. It is authorised, according to the German water law WHG, for the storing, filling up and decanting of water pollutants as well as waste oil, and it can be used according to the German fire protection norm TRGS 520, VbF AI-AIII, B.
Technical data S 4:
Carrying power: 20 t/7t
Curb weight: 2600 kg
Trough capacity: 950/510/80 litre
Grating floor area: 1930 x 1500 mm back to EMESTA table
Battery trough: 1930 x 600 mm
Overall dimension: 5820 x 2500 x 2580 mm
Headway: 1800 / 1700 mm